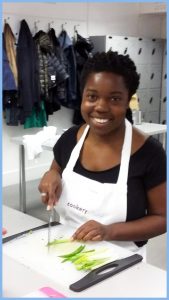 We would like to say a huge congratulations to Eunice Ambrose who has been with us for 15 years. Eunice joined us in 2001 where she began working with us as a receptionist. This is an incredible milestone and we are proud of this huge achievement.
Eunice is a loyal and trusted member of staff who strives towards delivering a quality service at all times.
Two of Eunices' passions are cooking and travelling and to mark the occasion we presented Eunice with a 'Red Letter Day' cookery voucher, travel vouchers and a surprise feast at the Practice with her favourite Lebanese cuisine.
Eunice recently attended the cookery course which she attended and has used her travel vouchers to travel to one of her favourite destinations, Morocco.
Congratulations once again!