We have a commitment to care
At the Courtfield Private Practice we have been caring for patients for over 25 years. As well as serving the local population, patients come from all over the world to see us. Our experienced and caring team are dedicated to providing medical care to all age groups and every member of the family.
We provide the best and most progressive private medical treatment available, tailored to your family's needs and schedule. We understand the demands that modern families face, so we offer a wide variety of services to support you: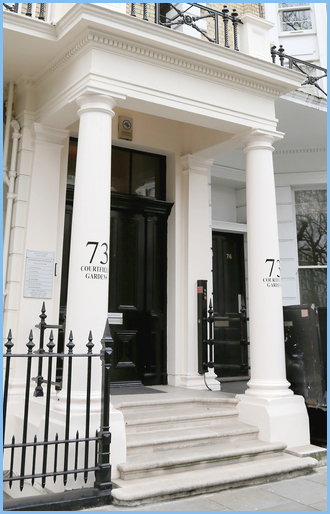 Longer Appointment Times
No one wants to feel rushed through an appointment. We aim to provide our patients with as much time with their doctors as they need. You can discuss your worries and concerns in a relaxed and unhurried environment, knowing that you've been allocated plenty of time.
FAMILY FOCUSSED
Our aim is to give excellent medical care to all age ranges, from newborn babies to the frail elderly. From simplifying bookings with our flexible appointment portal, to keeping your little ones up-to-date with their routine immunisations, we're here to support you and your family.
WORKING AROUND YOU
We believe patients deserve better than a 9-5 service and understand that they have busy working lives. We therefore offer routine Saturday morning appointments, longer evenings and earlier morning starts. For those unable to attend the Practice, we offer telephone consultations, email advice and home visiting.  Even outside of normal surgery hours, one of our colleagues from Concierge Doctor will always be available for telephone advice or home visits.
THINKING AHEAD
We believe in the importance of preventative medicine. All patients are offered and encouraged to have a comprehensive health screen with us each year. Male and female health screens are offered in conjunction with counselling to help you manage your future healthcare. Furthermore, all patients on long term medication are invited to annually review their medication plan.
COMPLEMENTARY MEDICINE
As part of our integrated approach to your overall healthcare, we work in close co-operation with a number of complementary therapists, some of whom are based at this practice.
HERE TO HELP
If you have any concerns or worries at all about our services, we're here to listen. If there's anything you would like to discuss, please contact Reshma Rughooputh, the Practice Manager.
tel: 020 7373 3541
email: enquiries@courtfieldpp.co.uk
Fiona, Kensington
"Thank you for another year of such wonderful care and for always fitting us in, even when you're busy. You're such a great doctor but somehow you always make us feel like we're popping in to see a friend! How wonderful is that?!"
Jo, Knightsbridge
"I am very lucky to have a doctor so kind, patient and understanding… You make us feel we can ask you anything, and you will always give us the best, most practical help with your network of contacts"
Robert & Lucy, Chelsea
"Amazing Doctor, has followed my son since he was 2 weeks old. Always put me and my son at ease. Careful and detailed explanation of what he is doing, empathetic and wonderful attitude, approachable- I have complete trust in him"
Caroline, Earl's Court
"Thanks for all your kindness and support through one of my toughest years"
Simon, Fulham
"Ability to make Saturday appointments and appointments early in the morning and late in the evening is very helpful"
Riza, Knightsbridge
"We are extremely happy with Dr Ladbrooke and everyone at Courtfield Private Practice. Everyone is friendly, happy and caring while providing wonderful medical services. Thank you!"
Annabelle, Sussex
"Lovely Practice with delightful staff"
Marcel, South Kensington
"Thank you so much for all your help over the last very hard month. We are so grateful. You are the best!"
Anonymous
"Thank you to Dr. Wood and your staff. It was a great relief, especially as a traveler, to receive such professional attention while far from home"
Melinda, South Kensington
"Thank you, everyone at Courtfield Private Practice, for looking after our family for so many years. It will be hard to beat this level of service and professionalism when we are looking for our next primary care. Wishing you all the best and thank you again!"